Children's Titles | Reader's Advisory
Southborough Library Staff Suggestions
The Snatchabook | by Helen Docherty
In the adorable animal village of Burrow Down, all the animals are getting tucked into bed. Of course, they have on their coziest of jammies, the stuffed animals are tucked in tight, and their favorite bedtime books are close at hand. But a thief lurks about in the night, stealing their books right from under their noses! No one knows who this troublesome night bandit is, but it's making everyone quite nervous and upset. Only one little Rabbit is brave enough to find out who it is, and the answer might just surprise you.
Why Jenny likes this book: It's hard not to read this charming story and fall in love. The pictures are cute and the author rhymes her lines so that reading it is fun and lyrical. But don't let the sweetness of this book fool you, it's a book with important lessons. The first thing The Snatchabook teaches us is that children need to be read to. They love it, they crave it, and as the snatchabook shows, they will go to great lengths to hear a good story. The second lesson comes from Eliza Brown, the brave little Rabbit. She's not only brave, she's also patient. She doesn't react to the bad behavior of the snatchabook, rather she investigates what's causing the bad behavior and then she fixes it. An inspiring lesson for any parent or child.
Lizzy and the Good Luck Girl | by Susan Lubner
Lizzy is twelve years old and always looking for signs in her small town in Maine. So when she sets out with her best friend to help a stray cat and instead finds a runaway girl with a four-leaf clover on her hand, she must decide what this is trying to tell her. Is luck still on her side still and will she find a way to help the girl while making sure nobody knows her secret?

Why Amy likes this book: I love that this beautiful story about hope and loss, family and friendship is shared by a local author. This is a fun and sweet read for middle school students who may or may not believe in luck and coincidence.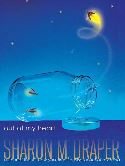 Out of My Heart | by Sharon M. Draper
This is the sequel to Out of My Mind but can also be read by itself. Melody is confined to a wheelchair and is non-verbal but has incredible intelligence. She has acquired a Medi-Talker to help her express herself verbally. Determined to go to summer camp, Melody finds one that would meet her needs and experiences her first time away from home overnight. Camp activities are adapted for her and other campers, and Melody is able to go zip-lining, swimming, meet many new friends, and prove to herself and her family that she can have some independence from them.

Why Kim likes this book: It was hard not to like and root for Melody! She is such a genuinely good person who has many more obstacles to overcome than others. Her family is also wonderful and supportive. While reading, I really wanted Melody to have a great summer camp experience!


Marshmallow & Jordan | by Alina Chau
Jordan used to be the star basketball player for her school, but after an accident she is paralyzed from the waist down. Still part of the team as a captain but feeling left out, Jordan comes across an adorable but unusual elephant. The elephant, named Marshmallow, becomes a part of the community and also nudges Jordan toward a new sport: water polo.

Why Kim likes this book: Jordan has had to reinvent her life after her accident but still manages to be positive and upbeat most of the time. Marshmallow is a very cute elephant and it is so nice to see the friendship that develops between the two characters, and also how Marshmallow can bring other people in Jordan's life together.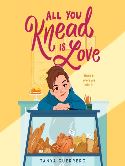 All You Knead is Love | by Tanya Guerrero
Although Alba does not want to live with her grandmother in Barcelona, after she arrives she discovers there is a lot to like about the city and her grandmother. She discovers a bakery with delicious bread and befriends the baker while learning how to make the bread. But when the bakery is in trouble, Alba must bring together all the people she has met in Barcelona to try and save it.

Why Kim likes this book: The characters were likeable and it was fun to read about the way different characters connected. It was also interesting to read the descriptions of life in a different country and learn a little about the Spanish culture. In addition, there were lots of descriptions of delicious sounding breads and baked goods!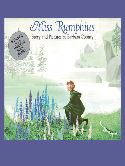 Miss Rumphius | by Barbara Cooney
Great-aunt Alice Rumphius tells stories of travelling to faraway places in her younger years and now lives by the sea. She sets out to make the world more beautiful and makes sure that her niece will set out to also figure out how to live a life that gives back.

Why Amy likes this book: This is one of my favorite picture books! I still read this a lot with my girls (ages 8 and 11) since they were young because I adore the beautiful story of making the world a better place and also for the amazing illustrations. It is a great book to read during the winter when you need something to look forward to, like flowers in the spring!"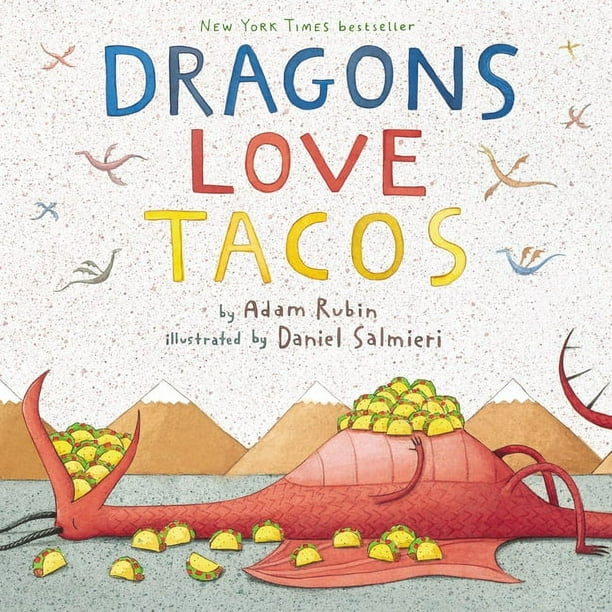 Dragons Love Tacos | by Adam Rubin
Dragons love a lot of things. Just in case you are planning a party for them, dragons will want to go to party and enjoy their favorite food: tacos. You will find, however, they can not under any circumstance enjoy their tacos with salsa. This is critical piece of information...but you will have to read this awesome book to find out why! And for fans, there is a sequel, Dragons Love Tacos 2.

Why Amy likes this book: The rule seems simple: dragons can't eat spicy salsa. Nothing can go wrong at a Taco party, right? Dive into this book together about dragons, bellyaches and fun! Curl around this silly picture book for some giggles together.


Outside In | by Deborah Underwood
This is a picture book about connecting with nature and how it impacts parts of our daily lives even while we are inside. It also picks up the rhythms of our environment through creative illustrations and reminds us how connected we really are.

Why Amy likes this book: Enjoy this beautifully written and inspiring book about how being outside can make us feel better and how important it is to not forget to spend time in nature. I recommend this story because it names that feeling that many of us have experienced and gives us a little nudge.
---
Children's Titles | Reader's Advisory
Southborough Library Staff Suggestions
Jubilee | by Patricia Reilly Giff | Audiobook
Ever since her mother left her, Jubilee decided not to speak. While she loves living with her Aunt Cora on a small island in Maine, Jubilee knows that everything is about to change when she must leave her special small classroom for the regular fifth-grade class. Communicating only through notes, Jubilee wants to find a true friend who accepts her but she must first decide whether she should leave all she loves, including her faithful dog, upon discovering her mother has moved nearby.

Why Amy likes this book: This is a tender story about friendship and belonging from Newbery Honor-winning author Patricia Reilly Giff. Readers are treated to fun cartoons from Jubilee and will find much humor intertwined with the hardship and challenges of coming to term with loss and grief. I really enjoyed this sweet story and how the author examines the powerful way love and acceptance help Jubilee find her voice again.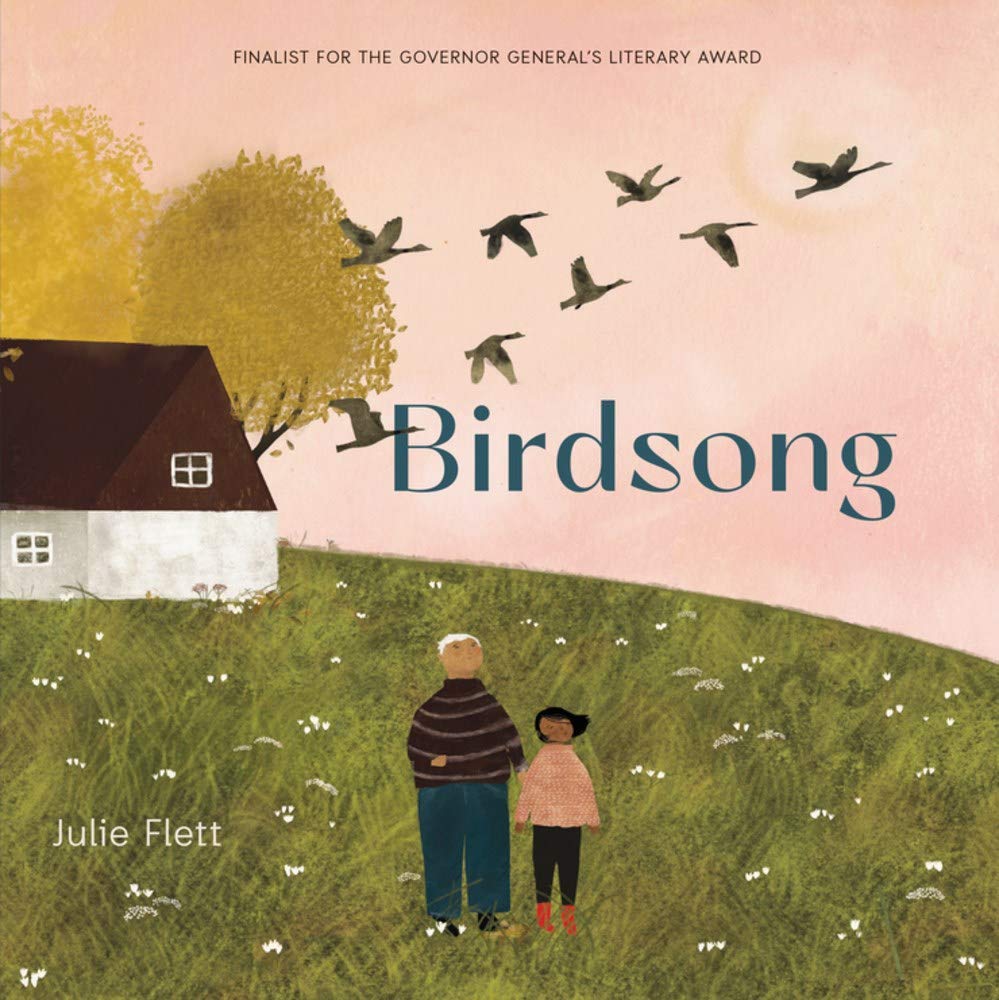 Birdsong | by Julie Flett
This picture book looks at change through seasons as a young girl moves from her home in the city by the sea. She moves with her mother and soon meets an older woman who she learns is her neighbor. They soon become friends and spend time together making crafts and exploring the countryside.

Why Amy likes this book: Winner of the TD Canadian Children's Literature award, Julie Flett writes a beautiful book about unlikely friendship, art, learning and nature infused with gorgeous illustrations. I highly recommend circling around Birdsong together to read aloud this delightful book.
When Cloud Become a Cloud | by Rob Hodgson
Meet Cloud! This nonfiction book lets young readers travel with the main character, Cloud, as she moves through difference weather and forms. This introductory book cleverly informs students about the water cycle through nine short chapters full of fun illustrations and dialogue.
Why Amy likes this book: This is a very funny story that makes science come alive through creative storytelling! I loved how short each chapter was and the information did not feel overwhelming but rather fun because the elements have been personified.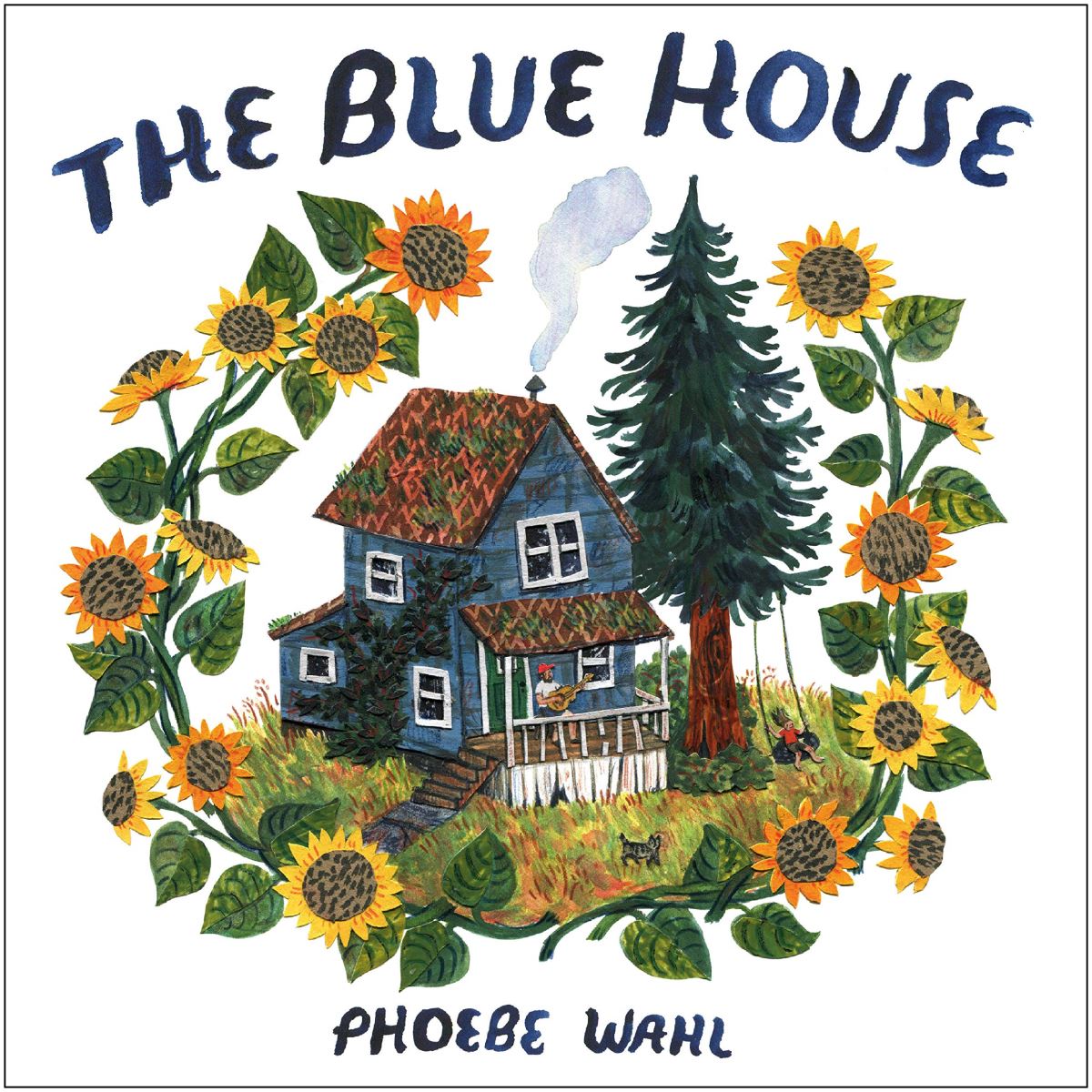 The Blue House | by Phoebe Wahl
A father and young son have made beautiful memories together in an old house they both cherish. So when their landlord tells them they must move, many emotions arise. They do not want the house to be torn down and are unsure where they will live next. When it is time for them to move into a new home together, however, they realize new memories can be made.

Why Amy likes this book: This is a heartfelt picture book that helps young readers understand that it is ok to show your feelings especially during significant changes and that adults can feel the same way! I adore the absolutely gorgeous drawings as well.


Once Upon a Dragon's Fire | by Beatrice Blue
Freya and Sylas know all about dragons. At least they think they do from listening to stories about just how dangerous and ferocious these beasts can be when stalking the land. When an extra cold storm descends upon their village, the two friends decide dragons are to blame. They set out to destroy the beasts but soon find not everything is what it seems.

Why Amy likes this book: I really enjoyed this picture book because it so beautifully tells a story about being brave enough to face your fears as well as change your mind after you understand what you think you know is no longer the truth. I love how these friends can teach readers about misconceptions and why we believe certain things as well as how sometimes the problem can actually be the solution.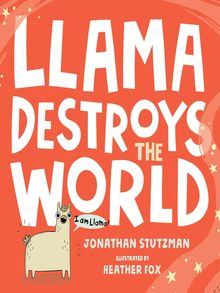 Llama Destorys the World | by Jonathan Stutzman
Llama decides it is a good day to put on his dancing pants but finds his love of treats is making it nearly impossible to fit into his clothes. Llama doesn't realize, however, that the when he squeezed into his favorite trousers, the force of ripping his pants has inadvertently created a hole in the universe. Readers will get to see how this new black hole will change everything in the span of a week.

Why Amy likes this book: It is so important to read silly books together! I had so much fun reading this fun picture book with my girls who could not stop giggling. We have read it many times when we just need a good laugh. I also recommend Llama Unleashes the Alpacalypse by the same author. The illustrations are also perfectly silly.

What Do You Do With An Idea? | by Kobe Yamada
A boy has a brilliant idea he doesn't know what to do with: should he ignore it? Where did it come from? Would people make fun of him if he shared it? What if it is not a good idea? He realizes that to protect it and help it grow, he must be brave and see what happens!

Why Amy likes this book: Mae Besom's illustrations are magical as is this story! I greatly appreciate that kids can feel encouraged by this special story that makes it is ok to find, name and pursue creative ideas that can change the world.
---
Children's Titles | Reader's Advisory
Southborough Library Staff Sugestions
The Watsons Go To Birmingham - 1963 | by Christopher Paul Curtis

This historical fiction tells the story of an African-America family navigating daily life during the height of the civil rights movement and is told from the perspective of Kenneth Watson, a fourth-grader who lives in Michigan with his parents, older brother Byron, younger sister Joetta. While kids tease him for being a nerd, his brother is the biggest bully at school. His parents decide the only way to get Byron back on track is to send him to live with his grandmother in Alabama. They all go on the road trip together unaware of the tragic events about to take place that will impact them the rest of their lives.

Why Amy likes this book: This book is funny and realistic but also emotional, offering a great opportunity for families to read together and talk about its topics of race and violence when the family's experience culminates around the 16th Street Baptist Church bombings in Birmingham. I really enjoyed Kenneth's voice because the author captures the mind of a 10-year-old so well. This story examines deeply relatable feelings about friendship, morality, guilt, and the enduring love of family through such an honest lens.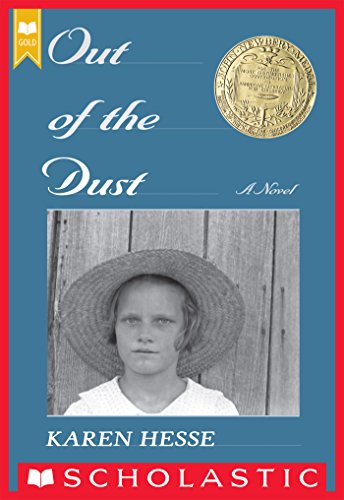 Out of the Dust | by Karen Hesse | Audiobook
This historical novel in verse tells the story of fourteen-year-old girl, Billie Joe, who lives in Oklahoma on a farm hit by the Dust Bowl during the Great Depression. Billie Joe lives to play the piano in her own passionate way especially with her friend, Mad Dog, but she wants nothing more than to leave all that behind after her mother is involved in an accident. Enduring many tragedies, Billie Joe struggles to forgive herself and her father as they decide how to navigate loss together while the harsh, unforgivable landscape makes survival a daily challenge.

Why Amy likes this book: Although this is a sad story of hardship and loss, I recommend this Newbery Medal winner for its beautiful poetry, extraordinary storytelling and also because I think it is very important to read about hardship, resilience and forgiveness. This story also captures an important piece of America's history that helps teach young and older readers about our past and how it shapes our present day lives.


Pax | by Sara Pennypacker | Audiobook
Peter's best friend is a fox named Pax that he has raised since finding him abandoned in the woods. When Peter's father volunteers for the war and Peter is sent to live with his grandfather, the two friends are separated by hundreds of miles and soon must overcome many obstacles to reunite, including surviving a war that rages around them as well as from within. Peter wrestles with the loss of his mother and his father's anger while Pax must learn to how to survive in the wild. The challenges each endure during their journey, however, might transform their friendship forever.

Why Amy likes this book: I really enjoyed how this story about our most powerful bonds in life is told in alternating perspectives of Peter and Pax, with a particular fondness for how well the author depicts the fox's perception of the world. This is a harsh story about war and its destruction, but also is a beautiful and very honest portrayal of loyalty despite our shortcomings and the consequences of choices we make. I like how an unexpected encounter with a woman in the woods helps Peter overcome his grief and anger because it shows the importance of taking risks, asking for help, and being true to yourself.


The Lions of Little Rock | by Kristin Levine
Marlee finds comfort in reciting prime numbers as well as clean mathematical answers and patterns. The idea of finding a friend or speaking during class in her middle school is too messy and much less fun. So, when Marlee finds herself making friends with the new girl, Liz, she knows this special bond is worth fighting for even if it means taking risks. This historical fiction places Liz and Marlee in the midst of the "Lost Year" in 958 when schools were closed in an attempt to block desegregation in Arkansas and examines how it split a community and became dangerous to stand up for equality and do the right thing.

Why Amy likes this book: I love how well this story is told and identify with the shy main character who finally realizes she must find her voice to take a stand. I like that Marlee must decide whether or not to disobey her parents and how the author shows parents as well as children struggling to figure out the issues at stake as well as how members of the same family can come to different decisions. This was a very poignant book about race relations in the South as well as bravery, family and friendship.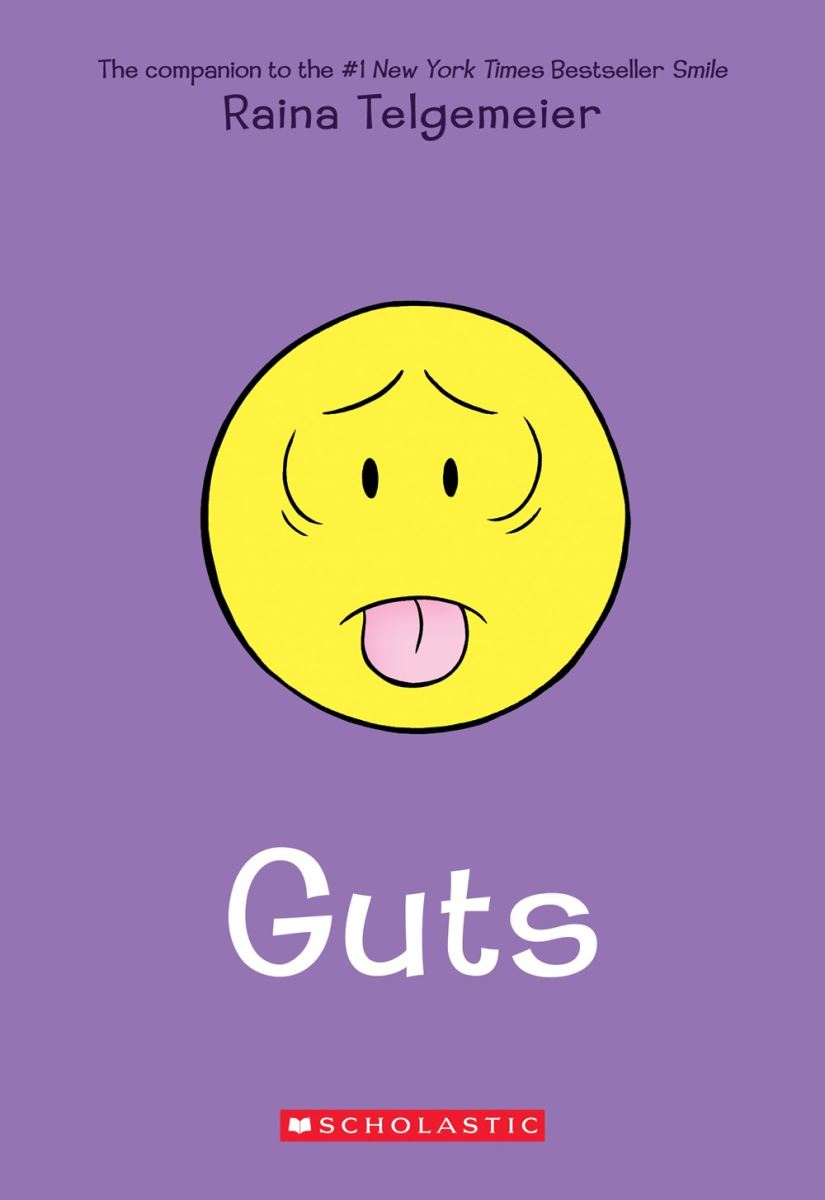 Guts | by Raina Telgemeier
The author writes about her own experiences as a child with anxiety and tummy troubles through a graphic novel format. Raina is in the fourth grade and feeling stressed about school work and friends when one night she gets sick and throws up. The doctor concludes she is healthy but when her upset stomach and fear of throwing up again don't go away, her parents make sure she can talk to someone about her phobias. Raina learns it is ok to talk about her fears and that she is not alone in her struggles at school as she figures out how to handle challenges.

Why Amy likes this book: There are so few books that talk honestly about anxiety. I love that this story is told through a graphic novel format based on the author's own experiences because it makes the topics more accessible and helps younger or older readers relate to universal feelings of anxiety around school as well as how anxiety can make us physically feel. The author also encourages children to talk to someone about stress so they don't have to feel overwhelmed, alone or like they don't fit in. It is worthwhile to check out the author's other graphic novels Sisters, Smile, Ghosts, Drama and more.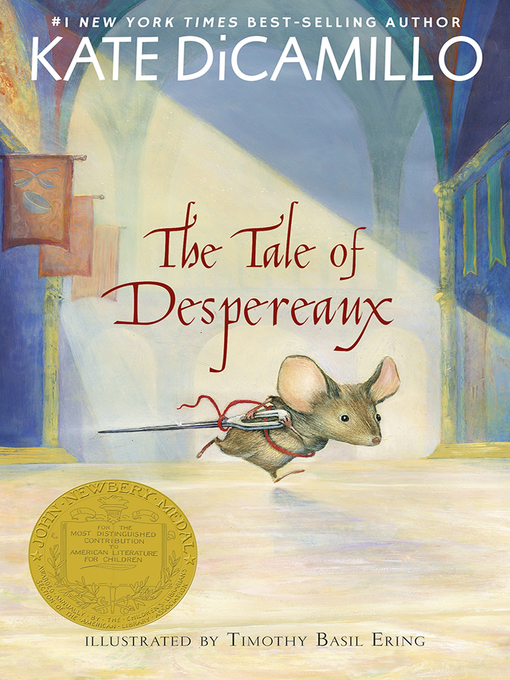 The Tale of Despereaux | by Kate DiCamillo | Audiobook
When Despereaux was born, the other mice knew he was different and teased for being too small and having ears too large. The other mice do not show any interest in the things he loves: books, music and the human Princess. The lives of the royal family, mice and rats who all dwell in the Kingdom of Dor soon intersect and things will never be the same when Despereaux breaks the rules set forth by the Mouse Council. When he shows himself to the princess, Despereaux is banished to the kingdom's dungeon where he must find the courage to survive the evil rats, the jailor and maid.

Why Amy likes this book: I love how the narration of this enchanting story is told in four separate parts and directly engages with the "Dear Reader." I adore the author's ability to share bits of life lessons and wisdom throughout an adventurous journey that cheers for the underdog. None of it was predictable and even though some parts were scary, there was always fun and humor right around the corner. Check out this charming Newberry Medal winner and other books by this author!


Finding Langston | by Lesa Cline-Ransome | Audiobook
Eleven-year-old Langston moves with his father from rural Alabama to Chicago in 1946 when his mother passes away. He longs for the comforts of his home and rural life as he finds himself surrounded by the noise and hustle of the city. His luck changes when he visits the Chicago Public Library that welcome all, unlike the whites-only library in Alabama. Langston soon fills his time at the library away from school bullies while his dad is working and discovers not only why his mother named him Langston, after her favorite poet, but also a love of reading and the courage to build a new life with his dad.

Why Amy likes this book: A Coretta Scott King Author Honor Book and Winner of the Scott O'Dell Award for Historical Fiction, I truly enjoyed the author's lyrical description of Langston's new life in the city as part of the Great Migration. That Langston can find beauty in the world again through his love of reading despite the loss of his mother and isolation in a new place is truly inspiring. His story reminded me how important it is to take risks and explore what makes your heart feel alive. I read this book in one day-make time to read this hopeful story which can open the hearts and minds of readers of all ages!


Front Desk | by Kelly Yang | Audiobook
Having recently emigrated from China to the United States, Mia's parents accept a job at the Calivista Motel thinking they have achieved the American Dream. Their dreams, however, soon come crashing down as they are overworked and cheated out of money by their cruel and demanding boss, Mr. Yao. Mia doesn't want any of her 5th grade classmates to know that she actually lives in the motel with her parents as she must navigate a new language, culture as well as job tending to a diverse group of motel guests.

Why Amy likes this book: Winner of the 2019 Asian/Pacific American Award for Literature, this is a raw and powerful look at the American experience for immigrants based on the author's own experiences as a 10-year-old working at her family's motel business. I am grateful the author chose to candidly talk about racism, poverty, bullying and privilege. I fell in love with Mia's passion to do the right thing despite facing so many challenges. From the Author's Note: "Often during tough times, the first instinct is to exclude. But this book is about what happens when you include, when, despite all your suffering and your heartache, you still wake up every morning and look at the world with fresh, curious eyes." I can't wait to read her new book Three Keys, a Front Desk Series, Book 2.
---
Children's Titles | Reader's Advisory
Available on Libby / Overdrive & Hoopla
Rules | by Cynthia Lord | Audiobook
This book is told from the perspective of twelve-year-old Catherine. Her eight-year-old brother, David, is autistic and Catherine has created a set of rules to help them both navigate the world together but wishes for time with friends during summer break as well as more attention from her parents. She hopes a girl who moves next door won't be too embarrassed to hang out but finds her world turning upside down when she meets a boy at David's weekly occupational therapy. Catherine realizes she must come to terms with her decisions to fit in and doing the right thing.

Why Amy likes this book: While I wish this book delved further into the brother's experiences and perspective, the author does an excellent job portraying a realistic family experience with autism. It is difficult to read about Catherine's resentment and embarrassment but it is also very honest portrayal which could help readers grapple with fears of differences. A Newbery Honor winner, I like that Rules is based on the author's own experience of raising a son with autism and how she couldn't answer her daughter's question about why families like theirs were not represented in any books. I think the story can also help readers understand that we all have feelings, hopes and dreams regardless of our abilities.


The Epic Failure of Arturo Zamora | by Pablo Cartaya | Audiobook
Summer break means 13-year-old Arturo will help out with his close-knit family's Cuban restaurant in Miami. His relationships with his mother and Abuela are put to the test when a developer, Mr. Pipo, threatens to stop the expansion of the restaurant and none of the family members is able to agree on how to save the business. Arturo must find the confidence to speak up for his family as he navigates his first love and friendships, the ailing health of his dear grandmother and the complex ups and downs of community advocacy.

Why Amy likes this book: I really enjoyed how the author brings an authentic voice to the likable Arturo while beautifully portraying the vibrant bonds of a Cuban American family working to support a dream. I also like that Spanish and poetry are woven throughout the story but in a way that all readers can understand. As Arturo fights to save his family and the restaurant, funny moments help break the heartache of loss. There is magic in the Zamora family's rich traditions and stories that create even deeper community ties. Recommended for grades 5-8.


White Bird: A Wonder Story | by R.J. Palacio
This graphic novel continues the author's story of Auggie & Me about Julian's grandmother and her experiences during World War II in France. As a young Jewish girl, Sara escaped her school and was hidden for over a year by a family during the Nazi occupation. She tells her grandson about how a classmate who was shunned ended up saving her life. Although Sara suffers the loss of family and friends, she is willing to talk about this time in her life so that he understands the importance of speaking up about injustices when others are unwilling.

Why Amy likes this book: I read this book in one sitting! I was deeply moved by this upsetting yet hopeful story in our history. The book's gorgeous illustrations showing both the world's cruelty and beauty will stay with you. Despite its troubling topics, the author is able to write in way that is honest and gracefully connects the past with the present for children or readers of any age. I felt inspired to share this story with my younger girls because Sara's message about the Holocaust is so important: kindness helps preserve humanity. Recommended for Ages 10+.


The Secret Garden | by Frances Hodgson Burnett
After losing both of her parents, young Mary must live with her widowed uncle in England. She is described as foul-tempered, sickly and selfish but things begin to change for Mary as she becomes determined to unlock the mystery of her uncle's secret garden. Mary begins to spend more time exploring the garden, becoming healthier and happier, but her discovery of a boy hidden away in her uncle's estate also proves to be another opportunity for transformation and renewal.

Why Amy likes this book: A classic of English children's literature, this story shaped my love of reading. I still remember my mom reading this and how it ignited my imagination. Even as a child, I understood the novel's lessons about how nature and friendships can heal and change people for the better. As a parent, I now also appreciate the way the author honestly portrays difficult feelings like loneliness, sadness and anger in a way that helps children work through emotions.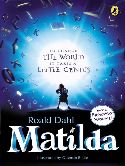 Matilda | by Roald Dahl | Audiobook
Matilda is a gifted child who finds solace from her unkind parents in her town library at the tender age of four when she learns how to read. Although her school discovers just how brilliant she really is, Matilda soon makes her very own discovery: she has telekinetic powers that can be used to fight back against her parents and horrifying headmistress, Ms. Trunchbull. Matilda finds comfort in Ms. Honey, her classroom teacher, who supports her throughout this classic tale of challenges and triumphs.

Why Amy likes this book: There are many reasons why children love Roald Dahl's timeless stories: fantasy, gross things, unlikable adults, pictures, made up words and the ability of young characters to find some kind of power. This was indeed a favorite of mine growing up and I loved reading this again as an adult because I admire that Matilda never gives up and enjoy Dahl's playful imagination. Despite being young and small, she is smart and shows how reading, learning and a little perseverance change her life for the better.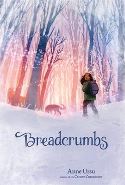 Breadcrumbs | by Anne Ursu
A modern retelling of Hans Christian Anderson's The Snow Queen, Breadcrumbs is its own original fairy tale that weaves in many classic children's fables throughout this story of friendship, loss and change. Hazel and Jack are eleven-years-old and best friends until one day Jack changes and disappears. Hazel is hurt but knows that his heart has been frozen and soon encounters many adventures as she must brave the woods alone to save her friend.

Why Amy likes this book: I fell in love with the way the author magically blends fantasy with reality through her writing as well as illustrations to create a beautiful space for children and adults to grieve changing friendships. Growing up can be hard, but I like how this book helps comfort its readers through Hazel's transformation from self-doubt to strength and bravery amidst a confusing world of unspoken rules. I was taken aback by the honest and gorgeous writing. I did not want this book to end!
---
Reader's Advisory for Children's Books
Chapter Books Recommended by Ms. Kim
The War That Saved My Life & Audiobook | The War I Finally Won & Audiobook | by Kimberly Brubaker Bradley | Suggested Grades 4-6
Set during World War II in Britain, these stories focus on Ada, a young girl born with a disability. Her abusive mother keeps her held prisoner in their apartment, but when the opportunity comes to evacuate out of London, Ava sneaks away with her younger brother. They are taken in by a woman named Susan and as they adjust to their new lives, the wartime struggles around them grow more intense.
Why Kim likes these books: Ava was such a likeable character and was living such a difficult life. She had so many things working against her and she kept trying to move forward. I just kept rooting for things to work out for her.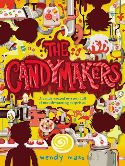 The Candymakers | The Candymakers and the Great Chocolate Chase | by Wendy Mass | Suggested Grades 4-8
It's a candymaking contest at the Life is Sweet candy factory, and the competitors are four 12-year-olds. Each is trying to create the new best candy in the country, and the factory has all kinds of amazing equipment and ingredients to help them. But when a secret ingredient goes missing, the contestants have to up their candy creating skills to try and solve the mystery.
Why Kim likes these books: These stories combined humor, mystery, and solid plot lines about each character. I enjoyed seeing how each person responded to the challenges of the candy making contest and the promotional tour of the country that followed.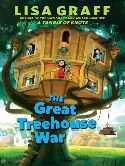 The Great Treehouse War | by Lisa Graff | Suggested Grades 4-6
When Winnie's parents get divorced, they decide she will spend three days a week with each of them in their adjoining houses. Since there are seven days in a week, she would spend Wednesdays by herself in a treehouse between the two houses. As she gets more frustrated with her parents she decides to barricade herself in her treehouse and then her friends decide to join her. Will the kids or the parents agree to compromise first?
Why Kim likes this book: Although it's unlikely that parents would actually set up this scenario, I could understand why Winnie preferred the peacefulness of the treehouse when her parents were being unreasonable. Despite the situation, a fair amount of humor was included, and I enjoyed the interactions between the characters.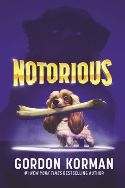 Notorious & Audiobook | by Gordon Korman | Suggested Grades 3-7
Keenan usually lives all over the world with his mother, but while recovering from an illness he is sent to live with his father on Centerlight Island, half of which is in the United States and half in Canada. Keenan's neighbor ZeeBee is both obsessed with the island's history and the belief that her first dog, Barney One, was murdered. As Keenan recovers from his illness, he gets caught up in ZeeBee's quest to solve mysteries about both of these. A good amount of humor and adventure follow!
Why Kim likes this book: I am a big fan of Gordon Korman. Most of his books involve characters that readers can relate to in various ways. In this story, I really liked the characters of both Keenan and ZeeBee, and easily got caught up in the plot.
---
Children's Book Series to Recommend
When Just One Book Isn't Enough
Alien in my Pocket Series | by Nate Ball | Suggested Grades 1-5
Blast Off! Part One: Author Nate Ball, who is an MIT graduate and host of PBS's Emmy Award-winning Deign Squad Series, writes about fourth-grader Zachary whose life is turned upside down when a small alien, Amp, crash-lands into his bedroom window. Zachary realizes the alien is not there to harm him and must figure out with his best friend, Olivia, how to protect the alien and repair his spaceship. Fun ensues when Amp causes trouble for Zachary at home and school. Alien in My Pocket has eight chapter books in this series.




Why Amy likes these books: This is a great way for readers who love science and aliens to start to ease into chapter books! It is very funny and has great illustrations as well as do-it-yourself science experiments and facts throughout these adventurous and fast-paced books. Ms. Kim actually recommended this series to my daughter which we really enjoyed reading together. She laughed a lot and looked forward to visiting the library to find the next books in the series.

Secret Agent Jack Stalwart | by Elizabeth Hunt | Suggested Grades 1-4
Jack Stalwart is an ordinary boy by day who becomes a secret agent at night as he searches the world for his missing brother, Max. Armed with plenty of secret agent equipment, Jack is summoned to a new location each night to fight off evil and solve a mystery.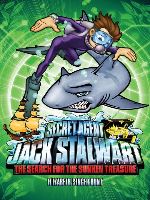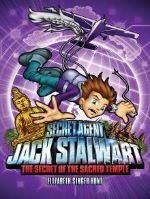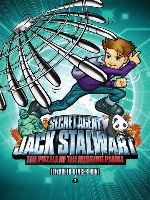 Why Kim likes these books: Each story takes place in a new location, so readers can travel around the world with Jack. Seeing the different tricks and spy equipment he can pull out to help solve the mysteries is also fun.
Mr. Lemoncello | by Chris Grabenstein | Suggested Grades 3-7
Luigi Lemoncello is the most famous gamemaker in the world, and he just designed the new town library. Twelve children are selected to spend the opening night locked in the library, which has amazing interactive features. To get out, they must solve the puzzles and figure out the clues before the others do. The sequels follow the contestants through many other challenges.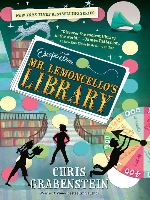 Why Kim likes these books: As a librarian, I always like to read about libraries! But this library was unlike any that anyone could imagine. The puzzles were tricky but also fun to try and solve. The humor, great characters, and puzzles made these stories really enjoyable to read.
---